If you are looking to grow your online business, one of the best & actually fun ways to do it is through Pinterest. If you are reading this, then you are probably thinking the same thing I was two years ago when I decided to use Pinterest to grow my business-
"How the heck am I going to grow my business with Pinterest?"
At first, I didn't notice any drastic change or growth with my business. However, I knew I was reaching out to people because my followers grew & more of my pins were being saved. Over time, as I tweaked my process through tips & advice I found in my research, my business began growing quickly. I quickly began growing both aspects of my online business,  online sales & the leadership aspect of my business. On top of that, I also began receiving more acknowledgement, views & clicks to my blog, Journey of an Avon Mom. This is where viewers can find tips & information on buying & selling Avon as well as being a work at home mom, like myself.
To learn more about how you can earn money in sales & leadership with Avon, Click Here.
After some research and some trial & error, I found a way to use Pinterest to help grow my online business. Below you will learn a little bit about Pinterest & some tips I use that work for me & my online presence.
You can check out my Pinterest profile, Avon with Jen Antunes, by Clicking Here.
Pinterest is a social networking program where you can save, aka "Pin", images & organize them into categories, aka "Boards" that began in March 2010 thanks to Ben Silbermann's vision and Evan Sharp's design. In December 2011, the site became one of the top 10 largest social network services, according to Hitwise data, with 11 million total visits per week." (Hinseth, 2013). Now there are close to 200 million active users worldwide, 60% of them being from the U.S.. (Aslam, 2018).
You will find on Pinterest a wide variety of pins such as DIY projects, recipes, places to travel, activities to do, products to buy, tips & how to's, photography and everything in between. When Pinterest was first launched, it was used as more of a scrapbook type of thing. However, over the years businesses & large companies began using Pinterest as a way to grow their online presence & clicks to their websites. "People use Pinterest while they're in different mindsets—they might be looking for new things to aspire to do, narrowing down on a few options or making decisions on what to buy and do next." (C & K Designs, 2014)  Because of the differing mindset you get from Pinterest viewers compared to those from Facebook or Twitter, businesses have, surprisingly to many, found much success on Pinterest.
Pinterest Statistics
Pinterest is probably one of the most unused but most useful social media marketing tool for businesses. If you are still unsure if you should use Pinterest or maybe you are just interested in knowing why this is such a useful tool, here are some interesting statistics I found from Salman Aslam's article (2018):
175 million monthly ACTIVE users worldwide, 75 million come from the U.S..
Average time spent on Pinterest per visit is 14.2 minutes.
Millennials use Pinterest as much as Instagram.
2 million Pinterest users save shopping pins on boards DAILY.
72% of Pinners use Pinterest to decide what to buy offline.
93% of ACTIVE Pinners use Pinterest to plan for purchases and 87% purchased something because of Pinterest.
Almost 2 million people pin product rich pins DAILY.

– from Pinterest by the Numbers: Stats, Demographics & Fun Facts by Salman Aslam
Why Use Pinterest for Your Business
If you are still not convinced on why Pinterest is a vital tool for your business then consider this:
Growing an online business takes TIME, PLANNING & CONSISTENCY.
If you are like me, you are probably looking for ways to run your business that are going to be the most efficient way possible, especially when it comes to social media marketing. Being efficient will minimize your time you have to focus on one task and give you the ability to do more with your business. Who wouldn't want to complete something as quickly as possible.
With an online business it is very important to use social media networks to grow your online presence & traffic to your website. So what if I told you that with Pinterest, 1 pin can drive traffic to your website over a 7 month period. How do I know this? Wiselytics did a study in 2014 to see what a popular tweet/post half-life would be. What do I mean by half life? It is the length of time it would take for a tweet/post to reach half of their total clicks & views. The study found that a tweet's half life was 24 minutes while a Facebook post was 90 minutes.  (Wiselytics, 2014) A Pinterest's pin half life is 3 1/2 months! Yes, you read it correctly, three and a half months! That is 1, 680 times longer than a Facebook post. (Kohler, 2014). Convinced now?
Tips on Using Pinterest to Grow Your Business
Just like with anything else, to get the best results with using Pinterest to market your business, it is important to do it right. Here are some tips, I've learned from my own experience, that will give you the best results.
Make a Business Pinterest Profile
If you are sharing your business via Pinterest, according to their Business Terms of Services, you are required to create a business account.  But keep in mind, just like a business page on Facebook, a business profile on Pinterest will give you access to more tools & advantages that will help you market your business such as being able to use your business name rather then your personal name and access to tools like Rich Pins, Promoted Pins (aka Ads) & Pinterest Analytics. So, though it's a requirement, it's a requirement that will help you out in the long run.
Here are the top 5 benefits you can enjoy with a business Pinterest account according to MintSwift's Adrianna Glowacka (2016):
It's 100% FREE (Gotta love FREE!)
You will look more professional.
Ability to use Rich Pins which will help you stand out from competitors & help you grow your business.
You will have the ability to Promote Pins for a small fee so more of your targeted audience see your pin(s).
Access to Pinterest Analytics which provides you statistics on what pins & boards are attracting the most views, followers & clicks to your website.
To learn more about Adrianna Glowacka's benefits & why you should have one, check out her blog 5 Benefits of Having a Pinterest Business Account.
To learn how to create a business account on Pinterest, Click Here.
Create Relevant Pinterest Profile & Boards
When sharing your business on any social media network, you are looking to grow your views, followers & engagement. In doing so, as your numbers increase, so will your rank when someone does a search through a search engine, such as Google. In order to grow your views, followers & engagement, you must create a Pinterest profile & boards that people will want to be apart of. If they do not find a use or are not interested in what you are sharing, why would they even check out anything you have to share?
TIP: Before creating your profile & boards, think of the type of audience you are looking to attract. Think of the gender, age range and even demographics of the audience you feel that would 1. be the most interested in what your business has to offer and 2. more importantly, who will benefit the most from your business. 
To learn more on how you can create a more attractive Pinterest profile & boards, check out Melyssa Griffin's 3 Essential Pinterest Strategies to Quickly Grow Your Traffic on Autopilot.
Add the Pin It Button to Your Website
One way to draw more traffic to your website is by including the "Pin It Button" to your pages. This will "make it easier for customers to share your articles, products and services on Pinterest and drive new traffic from Pinterest back to your website." (Kao, 2014)
All they will have to do is scroll over an image to the top left corner and click on the "Pin It Button". Then, the image & the link to your page will be able to be saved to a customer's chosen Pinterest board. This will then bring attention to your website from those who are following your customer as well as increasing your online presence.
Having the "Pin It Button" on your website, will also make it easier for you to share images. This will give you the opportunity to write a description of the selected product/service or explain how customers will be able to use your product/service. By sharing images from your website, you will also be growing your presence online which will make it easier for your business to be found on search engines.
TIP: See what type of pins are driving the most views & traffic to your website with Pinterest Analytics. By knowing what is more attractive to consumers will help you know what pins will be the most effective in growing your online presence, followers & clicks to your website.
To learn more about Pinterest's Pin It Button for businesses, Click Here.
 Engage with Your Audience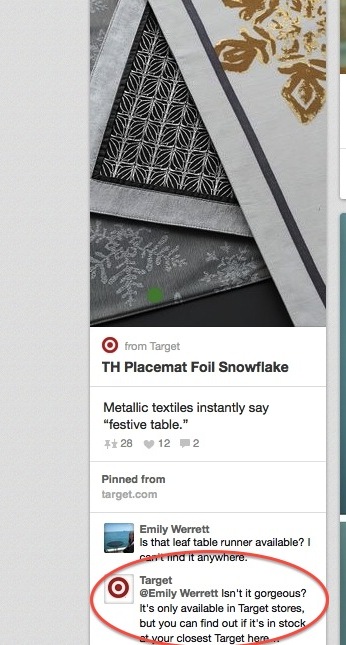 Just like with any other social media network you use to market your business, it is important to engage with your audience. Whenever someone posts a comment or question on one of your pins, it is important for you to acknowledge him/her and comment back or answer his/her question. "Users take notice when businesses engage in conversations." (Hemley, 2013)
TIP: Did you know that now you can also receive personal messages on Pinterest. This allows to connect with consumers at a more personal level.
Keep in mind when you are running a business, the most effective way to have loyal customers & to get new customers is by offering excellent customer service. By engaging your audience on Pinterest, this is one way in how you can offer excellent customer service.
Imagine how you would feel as a consumer if you took the time to comment on a product or if you shown interest in a product by asking questions and that business never got back to you. Will you want to do business with them? Would you more likely purchase from a business that acknowledges you & answers your questions?
Click here to Work at Home with Avon with Reference Code: jantunes
Schedule Pins
Just like with sharing on any social media network, it can be time consuming to manually share pins on Pinterest. There are a variety of tools out there that you can use to schedule pins ahead of time.
My favorite social media scheduling tool is Buffer. You can connect your Pinterest account & schedule pins with a paid account. I've also heard a lot of great things about Tailwind. I have not personally used this software, but it is another popular tool businesses use to schedule their pins on Pinterest.
If you are an Avon Representative, you are now able to schedule pins on Pinterest for FREE through Avon Social found on youravon.com. Note that you will need to go back to each pin and input your website. I spoke to MultiBrain about this issue and they stated that they are currently working on this so we won't have to go back & enter our website.
What I currently do is and put the link I want to use in the description and at the end of each day, edit each pin that was shared that day by copying & pasting the link I added in the description to the website link box. This is only possible via computer. You will not be able to do these changes via the Pinterest mobile app. 
By scheduling your pins ahead of time, you will be able to free up your time & ensure that you are remaining consistent. Also, scheduling your pins, will help ensure you don't get distracted. I'm sure you have had times where you end up getting distracted while trying to work on your chosen social media networks. I know I am guilty of this, even to this day (*wink, wink*). Hey, if something catches our eye, how is that our fault? LOL.
Scheduling your pins, just like with your other social media networks, helps you stay on track, be efficient & ensure that you are able to be consistent. You will notice that those three benefits will make a big difference with your business.
Click Here for Social Marketing Writing's 4 Best Pinterest Scheduling Tools Tried & Tested article.
In Conclusion…
Even this day in age, Pinterest is one social media network that is not used to its full potential with most businesses. With these tips & helpful information you will be ahead of the game and I am telling you, you  won't regret it.
For more tips & ideas on growing your online business with social media, check out my blog Tips on Growing Online Business with Social Media.
Share your tips on how you market your business on Pinterest in the comments below.
For More Tips & References:
"3 Essential Pinterest Strategies to Quickly Grow Your Traffic on Autopilot" by Melyssa Griffin 2016
Business Insider's "Pinterest CEO: Here's How We Became the Web's Next Big Thing" by Nicholas Carlson April 24, 2012
C&K Designs "Grow Your Business with Pinterest" by Carolyn Kao October 14, 2014
"The History of Pinterest" by Haley Hinseth January 17, 2013
MintSwift's "5 Benefits of Having a Pinterest Business Account" by Adrianna Glowacka October 21, 2016
Omnicore Agency's "Pinterest by the Numbers: Stats, Demographics & Fun Facts" by Salman Aslam January 1, 2018
"Pinterest for Business- How You Can Use Pinterest to Grow Your Online Business by Jessica Safko 2018
Post Planner's "How to Use Pinterest for Business: 'Getting Started' Guide for Beginners" by Rebekah Radice 2011-2018
Social Marketing Writing's "4 Best Pinterest Scheduling Tools Tried & Tested" by Mitt Ray March 8, 2017
Social Media Examiner's "26 Ways to Make Pinterest Work for Your Business" by Debbie Hemley December 17, 2013
"Why Pinterest is 1,680 Times Better Than Facebook" by Nicole Kohler May 31, 2014
"Your Tweet Half-Life is 1 Billion Times Shorter Than Carbon-14s" by Benjamin Rey March 5, 2014
HOW YOU CAN BE A WORK AT HOME MOM WITH AVON
Are you looking for a way to earn money at home that will fit around your family's schedule? Do you need some extra income for the extra curricular activities your kids are interested in? Are you a stay home mom looking for a way to talk to an adult?
You can become an Avon representative & create your very own home based and/or online business that works around you & your family's schedule by joining at www.startavon.com with Reference Code: jantunes.
At that time you will be able to choose from 3 starter kits starting at $25. Each kit will have everything you need to start your very own Avon business including brochures, full size products, samples, recruiting information & more. You can learn how to use your chosen starter kit to start a successful Avon business at Avon Selling Tips: 2018 Starter Kit Tips for New Representatives.
To learn more about starting your own Avon business, check out Avon Training: How to Start Avon Business.
How Can I Help You?
What You Can Do With Avon:
Shop Avon Online
Shop Avon Brochure
Sell Avon Use Reference Code: jantunes  
Earn Free Avon               
Donate with Avon