In 2003, Avon developed mark. in order to acknowledge & encourage the individuality of many of the young women in our society. The basis of the brand is "social beauty- the idea that women love to be social and want to be beautiful." (Avon Company, 2016)
This product line is more of an edgier, trendier style that many teens & young women love. Like Avon, mark sells a variety of products that provide women an opportunity to feel beautiful, empowered & confident.
In Campaign 10'2017, mark. changed it's name to mark. by Avon & updated its look. With the new look & new makeup products, mark. by Avon encourages women to experiment with their looks & "Be Beauty Brave".
Continue to scroll down for mark. by Avon new products, sales & more.
 mark. girls
In 2013, Lucy Hale from Pretty Little Liars on Freeform was named Beauty Brand Ambassador for mark. makeup. She is also the spokesperson for mark.'s campaign against dating & women violence called m.powerment.
"I just want to say that I'm incredibly proud to partner with a brand that
is as passionate about empowering women as I am… It was important to me
to work with a brand that is truly about beauty on the inside and the
outside."

– Lucy Hale's comment on mark. Facebook page (Fashion Magazine, 2013))
She follows behind former mark. girls Lauren Conrad & Ashley Greene . If you'd like to see what Lucy Hale's favorite mark fashion & makeup products are click here.
In 2015, celebrity make up artist Kelsey Deenihan joined the mark. team. She is one of Hollywood stars' go to make up artist, has worked on television shows like The View, E! News, The Academy Awards, MADTV & many more along with working on music videos for Britney Spears & Lady Gaga.  To learn more about Kelsey Deenihan & who she has worked with check out her website www.kdeenihan.com/. To see Kelsey Deenihan top picks from mark. click here.
You will find that mark. by Avon is the perfect product line for teens, young women & those who love trendy products in makeup, fashion, body care & more.
CLICK HERE TO SHOP LATEST MARK. BY AVON MAGALOG
All Butter Now Lip Treat ($11): Say bye-bye to dry lips with this twist tube lip moisturizer. Delivers a sheer wash of color or builds to full coverage for a range of lip looks! Also check out Lipclick Full Cover Lipstick and Lipclick Matte Full Color Lipstick.
All Over Eyeshadow Brush ($12): An all-purpose dome shaped brush that sweeps and blends eyeshadow expertly. The ferrule has a dark silver shiny finish, and the handle has a metallized dark silver shiny finish.
Cheek Magnet Hook Up Powder Blush ($18): Get a sheer wash of color or build for intense color payoff. Also check out Glow Together Hook Up Bronzing Powder.
Eye Contact Hook Up Eyeshadow Palette ($18): Enjoy the must-have shades for any beauty queen with 9 gorgeous shades that you can mix and match for every eye look. This blendable, crease-proof formula glides over lids and blends to a silky velvet finish. Also check out Clique It Compact with mark. eyeshadow singles and Get a Grip Eye Primer.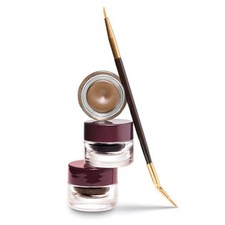 Gel Eyeliner Brush ($10): Dual ended brush with pointy shaped nylon hair with straight ferrule and an angled ferrule to apply eyeliner from all angles.
Give 'Em Gel Eyeliner ($12): A waterproof gel eye liner that glides on easily for long-wearing definition. Easy-to-apply, long-wearing formula. Brightens and highlights eyes for an intense, dramatic look. Glides over lids for a precise line with no pulling, tugging or smudging. Also check out Draw the Line Waterproof Liquid Eyeliner and Dusk till Dawn Waterproof Eyeliner.
Lash Act Build & Define Mascara ($12): Same product, New Look! Features a game-changer wand – twist its handle to either collapse or expand the brush head! Collapsed, the brush builds full, flirty lashes. Expanded, the brush adds length and definition! Build or define lashes with 2-in-1 mascara!
Pout Velvet Lip Paint ($12): Unique cushioned, tapered lip applicator to expertly line your lips & paint on your favorite vibrant color with a matte finish in one swipe. Has a built in primer with guaranteed smooth, even application that will keep color on lockdown. Also check out Pout Vinyl Lip Paint and Gloss Gorgeous Lip Stain
Powder Buff Natural Skin Foundation ($18): An oil-free, soft pressed powder foundation that hides imperfections and allows for buildable sheer-to-full coverage. The whisper-soft powder formula glides on like silk to hide imperfections and deliver a soft natural finish that lasts for hours. Also check out Get Even Liquid Foundation.
Touch & Glow Shimmer Cream Cubes All Over Face Palette ($18): Same Product, New Look! Dare to glow like you mean it! A cult favorite, our shimmer cubes can be applied individually or combined for whatever look or level of glow you're game for. Nine highly pigmented, shimmery cubes of cream-to-powder shades with a velvety texture are molded in one square compact.
For more mark. by Avon make up & beauty tools, click here. 
*NEW* A Walk in the Desert Flats ($40): Faux pony hair flats that combine comfort & ferocious style.
Brand New Day Dress ($42): For a day of sightseeing, a printed maxi keeps things easy and breezy.
*NEW* Call of the Wild Palazzo Pants ($40): Walk out in these wide, billowy pants that display a bold global print with surprise slits that are oh-so-sexy.
Crochet All Day Maxi ($46): 70's throwback: the hottest hues of the season are all over this maxi dress. Latest trends prove you don't have to go skimpy to look hot this summer.
Do the Cha Cha Culottes ($40): When it comes to that 90-degree day outfit, keep it cool in vibrant with these flowy culottes with pockets. Polyester chiffon shell and polyester knit lining.
Easy Does It Slides ($40): Rock these slides in sizzling bright coral red for this season's hottest hue.
Havana Ball Sandals ($36): Four tan faux leather straps over the instep with cut-outs; attached charms, pom-poms and colorful beads; faux laces on the inside of the instep that go up around the leg with an ankle strap.
Hello Sunshine Halter Top ($34): Making a huge comeback: the halter top. Shoulders and upper back get total exposure with this bright halter. Layers of fabric give this a flowy look.
*NEW* Hot Terrain Heels ($44): Heels that combine a downtown cool feel with global detailing.
*NEW* Made the Cuts Top ($32): Extremely silky with cutouts in the back to dress up any outfit—and the black hue gives some urban edge!
*NEW* Nature of the Beast Bag ($42): A bag that goes from work to chic weekends. Carry like a satchel or attach its shoulder strap.
*NEW* Net Gain Dress ($38): Glide effortlessly through the streets in an LBD with an outdoorsy net overlay twist.
Split with Tradition Top ($32): Polyester crepe shell and polyester trim. Airy split back top.
*NEW* Style Safari Dress ($40): Boast a flattering fit-and-flare silhouette with a mash-up of global prints.
Sun on my Shoulders Dress ($38): This off-the-shoulder dress is the everywhere trend.
Waisted Effort Belt Bag ($32): Strap it around the waist as a belt bag or wear it over the shoulder as a mini bag.
We're Jammin Hobo Bag ($40): This essential black hobo is on fire with an amazing embroidered and mirrored strap.
*NEW* Gleam with Pride Ring ($20): A statement piece that roars with color and sparkle.
*NEW* It's a Jungle Out There Earrings ($18): These major danglers give your look a seriously wild touch.
Jamrock Collar Necklace ($38): It's time to party with bright colors and bold patterns. Fabric cord necklace with blue and coral thread wrapped in an x-style pattern around the necklace. Collar portion includes the blue and coral cord as well as black cord that is attached to multi-colored beads in the front of the necklace.
On the Bright Side Necklace ($34): Burnished gold oval link neckchain with a colorful pendant made of a glass seed bead tassel (lime green) and a ring of marquise shaped turquoise cabochons.
*NEW* See Me Roar Necklace ($38): A cool collar with a tribal vibe featuring a mix of beaded fringe and metal medallions.
*NEW* Show Your Stripes Bracelet ($28): Made up of a soft band featuring an entire bazaar of embellishments.
 Street Party Bracelet ($24): Why play it safe with your accessories this summer? Have some fun by rocking this brass bracelet adorned with glass stones and flirty tassels.
Sunny Day Earrings ($18): Chandelier earrings with light blue beads forming a triangle and connecting to a hammered brass casting that has 3 separate bright orange tassels connected to it at the bottom.
Wooded Area Earrings ($18): These brass and wooden earrings make the perfect summer statement.
mark. Crushing on Coconut Collection (Starting at $6): Indulge your delectable spirit with a blend of coconut cream, mandarin & fresh orchids. Collection includes Body Scrub, Hand Cream, Body Mist, Body Butter & 3 in 1 Body Wash.
mark. Dreaming of Jasmine Collection (Starting at $6): Chanel your inner romantic with a blend of jasmine petals, peach & vanilla. Collection includes Body Scrub, Body Mist, Body Butter and Hand Cream.
mark. Naked Love Collection (Starting at $6): Fresh & clean in the most amazing way with notes of apricot nectar, white peaches, velvet freesia & skin musk. Collection includes Hand Cream, Body Mist, Body Butter & Body Wash.
mark. Passionate for Plumberry Collection (Starting at $6): Play into your dramatic side with notes of succulent plum, blackberry & passionflower. Collection includes Body Mist, Hand Cream, Body Scrub, 3 in 1 Body Wash & Body Butter.
mark. Sweet on Lemon Collection (Starting at $6): Find your most sweet tart self in a sparkling blend of citrus & sugar. Collection includes Body Scrub, Body Mist, Hand Cream, Body Butter & 3 in 1 Body Wash.
Curl Time No Clip Curl Styler ($30): Plug in this ceramic coated clipless iron and in just 60 seconds you're ready to wrap and roll out a wave or curl without any kinks, frizz or static whatsoever! With 30 heat settings, there's one for your hair type and that's right to handle the style you desire!
Give it to Me Straight Super Smoothing Lotion ($16): Stop playing and start straightening! This frizz-fighting styling lotion locks out humidity and keeps hair looking shiny and smooth. With camelia oil and pomegranate extract.
More Than Shine Hair Serum ($16): Get your shine on—but don't stop there! This weightless serum not only leaves hair looking its most brilliant, it also locks out humidity so flyaways and frizz don't disrupt your fabulously shiny style. For all hair types.
Young women between the ages of 16 & 24 experience triple the national rate in dating violence. With mark. being a brand that attracts more teens & young women, they created a cause that helps this age group help remain safe & empowered. The m.powerment by mark. is an amazing cause that is dedicated in breaking the cycle of dating abuse & partner violence.
Since 2008, m.powerment has raised more than $1.5 million & has awarded nearly 100 grants across the country to help charities & non profit organizations in bringing awareness to college campuses, promoting the bystander program & to help victims of dating violence including sexual assault. You can help make a difference by donating to m.powerment by mark.
To learn more about Teen Dating Violence & mark. m.powerment go to Teen Dating Violence & mark. m.Powerment.
Out with the Old, In with the New
Beginning in Campaign 1 2017, Avon began to stream line their product line in order to make room for new collections, make it easier for customers to shop & to let Avon's top selling products shine. Beginning in Campaign 9, select mark products will no longer be available for purchase.
For the complete list of 2017 discontinued Avon & mark. products, CLICK HERE. 
Shop by Magalog by August 24, 2017 by emailing me at avonantunes@gmail.com.
Shop Online by August 25, 2017 at www.youravon.com/jantunes.
If you'd like to receive a mark.  by Avon magalog each month, you can email me at avonantunes@gmail.com.
Earn as much as you want or need while helping others look & feel better confident & beautiful with Avon & mark. by Avon products as an Avon Representative. You can earn the money you need each month with products that sell themselves in a business that fits around your life.
It's as easy as 1-2-3!
SIGN UP ONLINE: Choose between 3 starter kits starting at $25 & get everything you need to start at www.startavon.com with Reference Code: jantunes.
SHARE: Hand out your brochures & share your FREE e-Store with everyone you know & come across in your daily life.
EARN: Work where & when you want and you can earn 40% on ALL sales with Avon's Kickstart program for New Representatives which is designed to help you build your business & earn over $1000 in your first 90 days. Like to learn more about how you can earn money, bonuses & incentives with Avon? Click Here
Click Here or Email me at avonantunes@gmail.com to learn more about becoming an Avon Representative.
JOIN TODAY AT WWW.STARTAVON.COM WITH REFERENCE CODE: JANTUNES
How to Save on Your Next Mark. by Avon Order:
The A Box: A Collection of Avon Beauty Products
Benefits of Shopping Avon with Jen Antunes
Benefits of Joining Avon as a Personal Shopper
Benefits of Shopping Avon Online
For more Sales & Deals with mark.:
Learn More About Avon & mark. Products:
Avon Making a Difference: Breast Cancer Crusade
Avon Anew: Taking Care of Your Skin
Teen Dating Violence & mark. m.Powerment
Avon Product Review: NutraEffects Hydration Night Gel Cream
Ways to Use Avon Skin So Soft Around Your Home
Avon Product Review: Anew Sheet Masks
Avon Product Review: Today, Tomorrow, Always Absolute Parfum
2017 List of Discontinued Avon Products
Avon Product Review: Avon True Color Flawless Liquid Foundation
2017 Father's Day Gift Ideas with Avon
Avon Product Review: Anew Platinum Day Cream with SPF 25
Body Care with Avon's Skin So Soft
27 Avon Beauty Products for Your Summer
Summer Body Care with Avon Senses
The A Box: A Collection of Avon Beauty Products
Avon's Kickstart Program for New Representatives
Avon Incentives: How to Earn the Most with Avon
You can also find me on Facebook, Instagram, Pinterest or Twitter.
How Can I Help You?
What You Can Do With Avon:
Shop Avon Online
Shop Avon Brochure
Sell Avon Use Reference Code: jantunes  
Earn Free Avon               
Donate with Avon